My apologies for not posting the notes from Oliver Taplin's talk yet. They are taking longer than I expected due to the need to decipher my notes and having various other chores to which I must attend. It will be up within the next 36 hours (and probably fairly soon).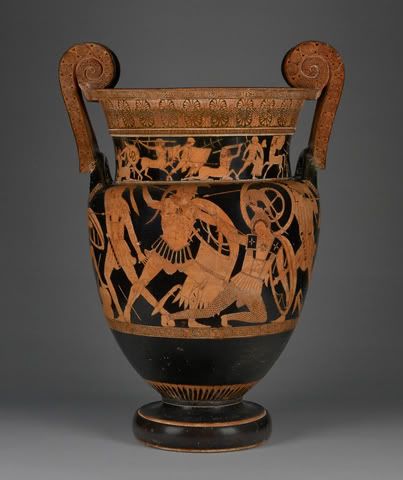 The Gela Krater [1]
Gela Krater
was housed at the Getty Villa and my mom and I ventured out to see it, as well as to wander around the other exhibits. The Gela Krater was featured in an exhibit that showed vases with depictions of scenes from the Trojan War, and primarily scenes from Homer's
Iliad
.
The Gela Krater is an Athenian-made krater which archaeologists discovered in Gela, a city in South Sicily. According to the
Getty Website
, it is "attributed to the Niobid Painter (Greek, active about 470–445 B.C.), [and] this monumental red-figured volute krater was produced in Athens between 475 and 450 B.C." (
Getty's Press Release
).
One of the great things about the Getty having immense amounts of money is that they can create mechanisms for conservation and protection and give them away to places that need them. For example, the Gela Krater now has a new display case that will help protect it in the case of an earthquake:
"Before installing the Gela Krater at the Getty Villa, the Museum's conservation team collaborated with conservators from Agrigento's Museo Archeologico Regionale to construct a custom seismic isolation base and pedestal.When the krater returns to Sicily, it will be accompanied by its new pedestal and earthquake-resistant mount for display in its home museum" (Getty's Press Release).
A similar and even more impressive project is
MEGA
, a computer network to catagorize and mark artifacts and systematize their protection which I discussed in an
earlier blogpost
.
Correction
So when I was listening to the lectures at
Artists and Actors Conference
, I heard a lot of talk about
volute
kraters (a particular shape of large vase, demonstrated by the
Pronomos Vase
). I misheard this as a "volume" krater, but it is actually
volute
krater. My apologies.
Endnotes
© 2010. The J. Paul Getty Trust. All rights reserved.