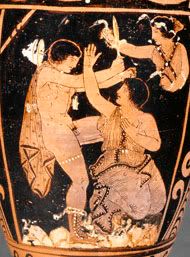 A picture from the exhibit "The Art of Ancient Greek Theater" at the Getty Villa [1].
Artists and Actors: Iconography and Performance in Ancient Greece
," was held over the last two days (although due to obligations at work I was only able to attend the first day). As Mary Louise Hart, the associate curator of antiquities at the Getty, remarked, it was primarily concerned with the "culture of performance," and the powerful images it inspired. The conference was held alongside a wonderful exhibit curated by Hart and entitled "
The Art of Ancient Greek Theater
." Although i did not get to see much of the exhibit, what I saw was magnificent. Mary did an incredible job not only gathering all of the wonderful pieces of pottery in one place for the first time, but also in the arrangement of the vases. Vessels with similar themes were placed together in order to display the juxtaposition of the depictions from different artists, places, and eras.
For my part, I would like to say thank you to Mary Louise Hart . To see all of this incredible craftsmanship in one place and to gather such an illustrious group of scholars, both among the contributors and the audience, was a phenomenal task. Hopefully, I will be able to return in the next few days to see the exhibit again and take the opportunity to study it.
Mary also put together a book,
The Art of Ancient Greek Theater
, from the images in the exhibit. The bookstore was a bit of a nightmare, so I did not get to look at it, but I can only imagine it's awesome.
Endnotes
Red-figured Neck Amphora showing Orestes slaying Klytaimnestra (detail), Paestum, South Italy, about 340 B.C. Terracotta, 18 3/4 x 7 13/16 in. The J. Paul Getty Museum, gift of Stanley Silverman (citation from the website). © 2010. The J. Paul Getty Trust. All rights reserved